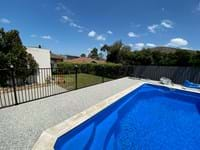 Fencing Inspections and Permits
Pool and Spa Fence Permits
---
As of December 2019, new laws to improve swimming pool and spa safety came into effect in Victoria.
Pool owners will have 60 days to bring their pools into compliance, if an inspector identifies any non-compliant safety concerns.
---
Our 4-Step Process
All residents with a structure containing water used primarily for swimming, wading or paddling with a depth of more than 300mm (30cm) must have a safety barrier installed.

OKE Pool Fencing can manage the entire process from start to finish. This includes managing registered building professionals to carry out safety checks and provide compliance certification for existing structures as well as our simple 4-Step process for those who are installing a new pool or spa.
This includes:
1. Submitting all relevant documentation for assessment
2. Liaising with surveyors, the relevant local council and government authorities to issue permits
3. Construction and installation of your new fences
4. Management of the final inspection and certification
This process ensures that all of our customers' personal and legal obligations are met so that they can enjoy their pool or spa with total peace-of-mind.
Contact us today to discuss your fence inspection and permit requirements.