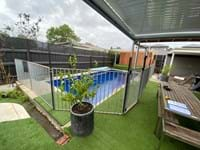 Installing a pool or spa?
In accordance with Victorian law, a temporary pool fence is required during any kind of construction, where a pool or spa contains or could accumulate more than 300mm (30cm) of water, in order to provide adequate safety and prevent children from accessing the area.
This includes any construction or excavated site where a pool is to be installed and the responsibility for the maintenance of the temporary barrier is a joint responsibility between the home owner and the builder.
---
Safe and secure
OKE Pool Fencing takes care of the entire process from the delivery, installation, dismantlement and removal of temporary pool fences. We offer highly competitive rates in addition to using the best quality temporary pool fencing. The panels we use have been specifically designed and manufactured in accordance with the strict Australian Standard AS 1926.1-2012.

At OKE Pool Fencing we make it our priority to orchestrate a smooth transition between your temporary pool fencing and permanent pool fencing.
Contact us today to discuss your temporary fencing needs.